Some of these releases came out before Mental Spaghetti Festival 3, but I haven't had a chance to make a post about them, but the rest are new.
Check it out!
[TFR168] Kessenchu - Never Let Your Feelings Die Because I Love A Girl And Even Though The USA Sux But I Gotta Keep On Living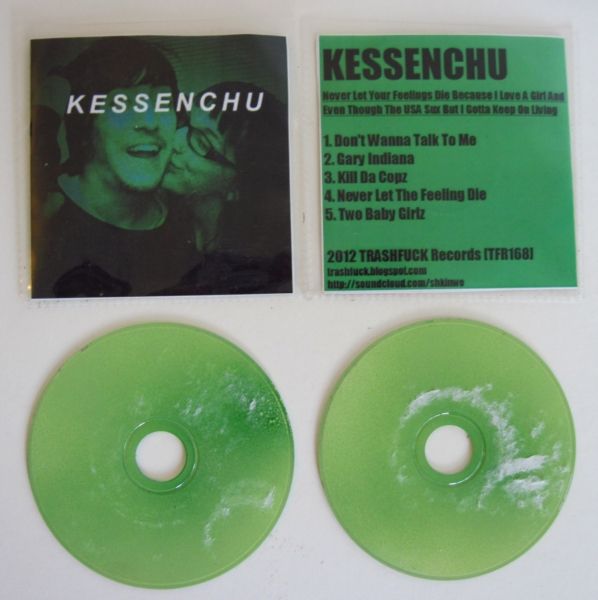 01 Don't Wanna Talk To Me
02 Gary Indianna
03 Kill Da Copz
04 Never Let The Feeling Die
05 Two Baby Girlz
Electro-pop-punk from some kid in Michigan on three inch cd-r, limited to 25 copies, only a few left. Obviously some paper got stuck to the paint because I was hasty in putting these items together before the festival, all the same it still plays well.
[TFR178] Lady Cumdumpster - Untitled Demo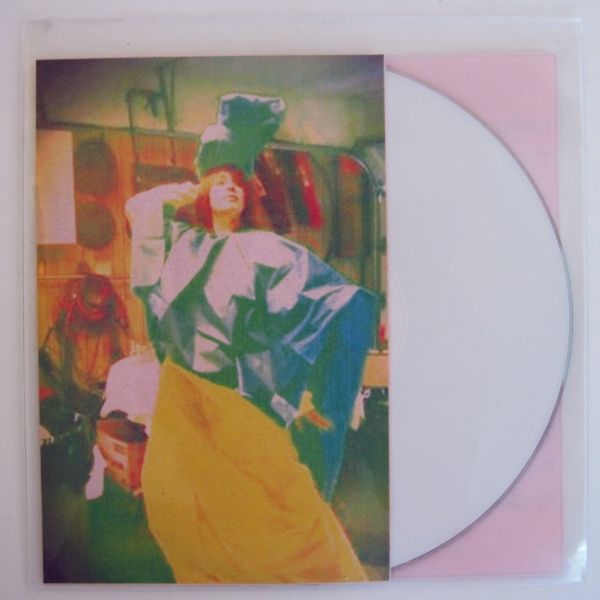 01 Foam Soap (Feat. Mister Tuesday)
02 Techno Friends (feat. Trish Rilka, Apache, RedSK)
03 To Smoke Weed, Of Course (Feat. Casper Decker)
04 Mothafucka!!! (Feat. Chasing Stupid)
05 I'm Not Racist, I'm Just Observant
06 You're A Nurse (Feat. RedSK)
07 نهائي المحاضرات المفرغة
08 5lb of Mayo
09 Couldn't Get This One To Work
Various experimental electronic tracks taken from past split releases from my fine female. Limited to 6 cd-r copies. Sold out.
[TFR177] RedSK vs. teh soup rebellion - Limited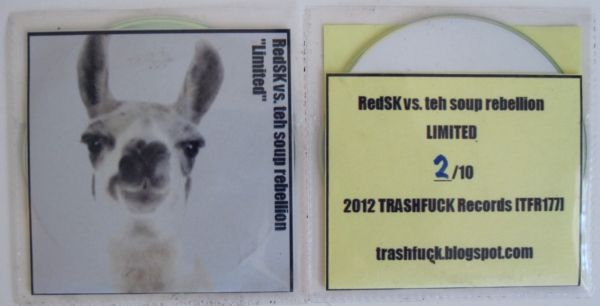 01 Limited
A live collaborative track between me and teh soup rebellion, practice jam from right before Mental Spaghetti Fest 3. Limited to 10 copies on three inch cd-r. 2 copies left.
[TFR115] Hxlly's Wxrld - Just Another Day In Murdamar / Teardrop Paradise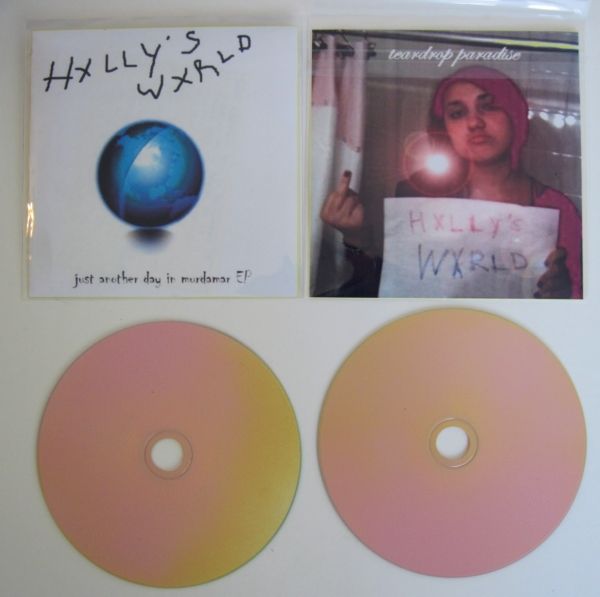 01 A Shirt With Tupac On It
02 Learn How To Ice Skate
03 Sales Pitch
04 Wedding Pictures
05 911 Is A Joke
06 Black Girl Slumber Party
07 I Like To Cry When I'm In Pain
08 I Wanna Die But I'm Already Dead
09 Lost Arby's Virginity
10 Melbourne Skyline
11 Rip 2pac
12 Sequarium
13 This Is My Dog
14 Yo Quiero
More crap from Hxlly's Wxrld. Bad songs about some bullshit. 2 EP's on one cd-r. Unlimited copies.
[TFR106] Uninterpretative: no! / Hxlly's Wxrld - SPLIT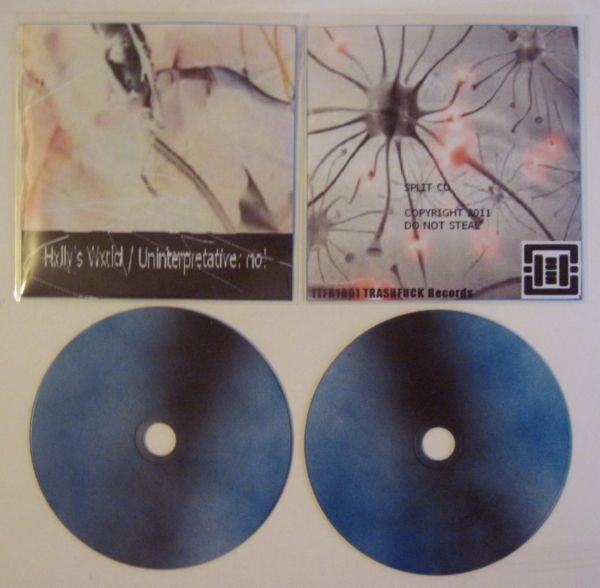 01 Uninterpretative: no! - Bees
02 Uninterpretative: no! - Bombs (with Olivia)
03 Uninterpretative: no! - The Only Girl In Spain
04 Uninterpretative: no! - Prayers (with Neely)
05 Uninterpretative: no! - Haunts
06 Uninterpretative: no! - Blues (with Ally)
07 Hxlly's Wxrld - bea4rc43yu54jfm
Cool weirdo electronic stuff from Unin:no! and some better more experimental material from those crazy kids we call Hxlly's Wxrld. Cd-r, unlimited.
[TFR164] Kaelteeinbruch & Catgirl - In Love With The States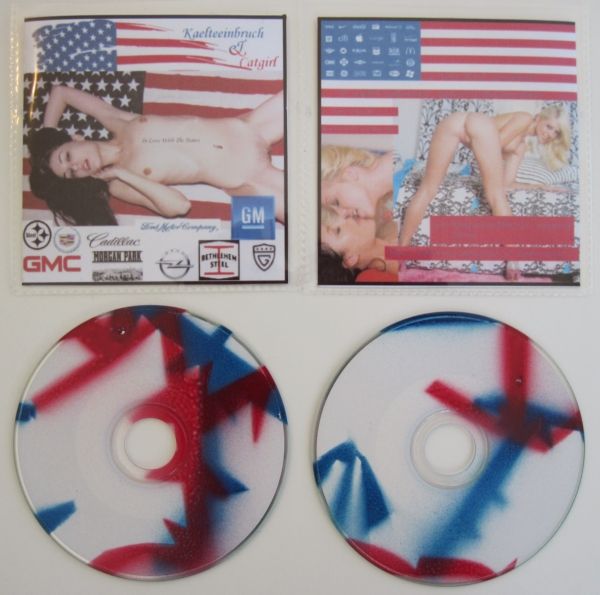 01 Kaelteeinbruch - Great Monsters
02 Catgirl & Kaelteeinbruch - Inspection Of Sharp Metal Blades
Noise about the States from people not from the States. Limited to 10 copies on three inch cd-r.
[TFR132] Nihilist Execution / Arseterror - Split
01 Nihilist Execution - Intro
02 Nihilist Execution - Untitled Harsh Noise
03 Nihilist Execution - Untitled Tracks
04 Nihilist Execution - Untitled Trax
05 Arseterror - Noel In Hell
06 Arseterror - Saint Nick Can Suck My Dick
07 Arseterror - Santa Claus Getting Incinerated By My Fireplace
08 Arseterror - Santa's Reindeer Shit Down My Chimney
Sick harshnoise and goretronics from two twisted weirdos. Unlimited copies on cd-r.
All releases are $5 a piece. Get any 5 releases for $20, postage paid, See our catalog section for more releases. Email tfnnetlabel@ymail.com for ordering info.